"The more that you read, the more things you will know. The more that you learn, the more places you will go."
-Dr Seuss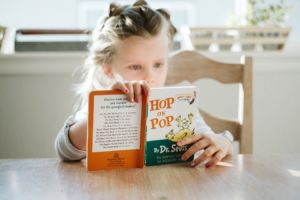 We know, we know. Dr Seuss is for kids, why are we celebrating his birthday?
We're preemptively asking the question so you don't have to. And the answer is quite simple, really. Today's post is as much about Dr Seuss as it is about legacy. About imagination. About the power of youth and the impact of words. Mostly, however, it's about reading and how books hold the key to societies full potential.
Many educators view reading as the foundation for successful school learning. But you already knew that. If you can't read, you can't study. Simple enough, right? But what many fail to realise is the difference between being able to read and actually reading.
Most of us do it effortlessly, often without thinking. Because of this, it's a skill we take for granted- yet one that is vital in order to progress. And the framework on which this skill is built is hardwired into us from a young age. The power of literacy manifests itself as our kids grow, learn and progress. This enables them to not just learn but understand, to not just read but visualise and to not just see pen and ink, but rather gateways to entirely new worlds.
And therein lies the beauty of books.
The way our present generation has come to undermine the importance of reading is alarming. One could say it's the result of social media and instant gratification. Why spend days, or even weeks, slowly reading a book when you can watch a movie and have the entire story in hours? Why devote time to something with no immediate tangible benefits? This, combined with the stigma of book being 'boring', are contributing factors behind an alarming decline in literacy rates. And it's up to us to prevent this from affecting tomorrow's generation.
One of the greatest gifts an adult can give not just their offspring, but society as a whole, is reading to their children. They say that kids are made readers on the laps of their parents, and that there is no such thing as a child who hates to read- just children who haven't found the right book.
We couldn't agree more.
Reading should not be presented as an obligation. Rather, it should be offered as it truly is- a precious gift worth cherishing. Fairy tales in childhood represent stepping stones through life. From the earliest age, we are taught valuable moral lessons. The difference between right and wrong is ingrained in us before we can even comprehend its magnitude. The true value of books is rooted in hope, the power of imagination and an ability to transcend the boundaries of normality.
And that's a gift you can't put a price on.
This is why we commemorate Dr Seuss this March. Because, sometimes, greatness lies in small things with big impacts. Although intended for kids, his works have maintained a place on bookshelves and in our hearts through decades. And while his unique style remains relevant to new generations, the life lessons he imbues still leave a mark on old ones. A quick look at the powerful moral ideas sprinkled throughout his literature reveals the reason they're so beloved- and the reason we advise utilising these to foster a love of reading…
So now that we've unpacked the power of literature, you must be wondering how this ties in to Sandton Central?
Well, it's time to discuss the Sandton Library. Situated in the heart of our shopping district and a stones throw away from Tata himself, it's really not a hard find. And if you're looking for a place to escape the hustle of everyday life, we can think of few better places.
Three floors worth of literature. Couches. Internet access. A means of taking a break and immersing yourself in an entirely new world. Need we say any more? But maybe that doesn't appeal to you enough, so here are the hard facts:
Aside from over 92 000 tangible books, you can find videos, audio-books, language tapes, newspapers and even CD's. Furthermore, it's open to everyone– with membership only required if you wish to take something home. Even then it's not a biggie- just bring in your ID and proof of residency, with an annual fee of R48.00. That's right. Less than fifty bucks.
There are children's story hours every Saturday at 10am and chess sessions for the adults at the same time. The library is open between 9am and 6pm Mondays to Thursdays, 9am to 5pm on Fridays and 9am to 1pm on Saturdays. Sadly, even libraries need rest, so they're closed on Sundays and public holidays. You've got the info, place and venue. Now all that's left is to get down there and let the words do the rest.
Before we conclude, let's leave you with some pearls of wisdom from the man himself…
"Fantasy is a necessary ingredient of living. It's a way of looking at life through the wrong end of a telescope"
We couldn't have said it better ourselves.