Yes, the weather might not get any warmer soon, but adventurous families can still have fun in the winter sun. Sandton Central's parks offer pall grey skies with a touch of lovely sunrays for picnics during the month of July. Think a warm, cosy blanket, wine or hot chocolate and all the great meals to enjoy outdoors, such as freshly baked sausage rolls, crispy chicken drumsticks, soups, sandwiches, winter salads or one-pot favourites such as stews or casseroles…
We encourage you to make the most of Picnic Month and find your love for the outdoors again while enjoying nature, your family and friends, and warm conversations. If you're a bucket list type of person, then ensure that you have at least one winter picnic on yours… It's much more thrilling than bungy jumping or skydiving, promise.
So layer up, pack the basket and get out of the house to enjoy the wonderful sights and smells that George Lee Park, Innesfree Park, Mushroom Park and Sandton Central Park have to offer, especially on Saturday, 3 July 2021 for Hop A Park Day. Rest and relaxation can't get better than this!
Here is a bit more detail on each of the parks to help you decide which one is best for your weekend outing –
George Lee Park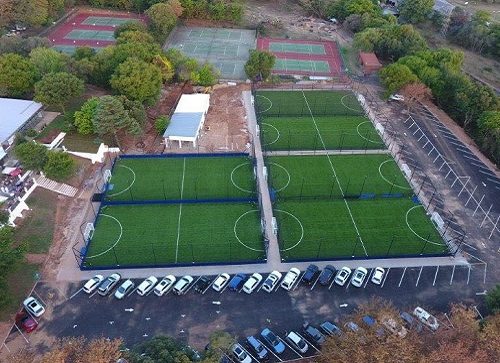 George Lee Park is not necessarily for picnics but still allows for eating, drinking, play dates and family time. The Sandton Sports Club is the go-to club for families, sports fanatics and innovative businesses looking for a new home. The fully fenced-off, shaded area at the Milk Bar is where kids can play on jungle gyms with dedicated childminders, but there is also ample space to skateboard, rollerblade and ride their bikes. This park is also dog friendly for walks.
Apart from being totally child-friendly, there are soccer fields and a clubhouse where social, corporate, ladies and mixed leagues are held in the evenings and on the weekends. Talking about sporty, this venue is ideal for an active outdoor children's party with optional catering options. For more information, feel free to contact them on 011 447 1198.
Innesfree Park
Innesfree Park is situated in the heart of the northern suburbs of Sandton and provides tranquillity with its superb landscaping and accessibility. This spot is excellent for picnics, usually used for motor shows, arts and culture exhibitions, and outdoor shows; however, portable braais are recommended.
Here, too, is a children's play area available; it's dog-friendly, and runners are welcome to fill their lungs with fresh air! Give them a call on 011 712 6600 with any queries.
Mushroom Park
Mushroom Farm Park is the perfect place to enjoy nature in a secure environment, equipped with an interactive children's play area, an earth garden, amphitheatre, a giant balloon riding facility, an outdoor gym and a duck pond at a free entrance.
Security guards patrolling the area make the park safe and secure for strollers, joggers, and dog walkers with their pooches on a leash. Get in touch with the park on 010 900 3219 with any possible questions.
Sandton Central Park
Close to heart, Sandton Central Park is a small and intimate park that hosts live music day festivals and other events. It has an amphitheatre, sculptured garden beds, indigenous trees, solar-powered lights, and benches.
So, bring all and enjoy a space to socialise, relax and break from the city's daily hustle and bustle. Have any further questions or concerns? Please let us assist on 011 712 6614.
Obviously, there are more to parks than meet the eye, so you can spend an entire day at a park without ever having to worry about getting bored… We hope you embrace this; Happy Picnic Month, Sandton!
Read more articles here