Keep safe this holiday season.
It's not something we necessarily like to think about. But it is a priority in any country, and most especially in ours. And that is the issue of safety during the holiday season. There are various aspects to this, from the home all the way to being out and about.
The South African Police Service at Sandton, JMPD and Sandton Central take pride in making Sandton Central a safe environment for the patrons to enjoy. We welcome you!
Keep handbags and laptops safe
Avoid exposing expensive watches
Limit the use of your phone in public
Be vigilant with your valuables
Home awareness.
Robbery numbers tend to spike up during this time of year. Many people go on holiday and robbers know this. If you are going away, it might be a good idea to find a house sitter you trust, so if you are being watched, criminals will see there is activity happening in the home.
If your neighbours are around, a good approach is to make friends with them and give them some idea as to your movements, and if you're expecting people and so on. This allows them to pick up if something suspicious is happening on your property.
If you live in a complex, you must be aware that a sense of false-security can develop. The guards at the gates need to be more alert than ever. There have been instances where tenants have moved into a complex, with the sole intention of robbing other houses in the complex and stashing their ill-gotten goods in their place. So it is a good idea to insist owners of properties properly screen tenants, and this includes running criminal record checks. You should also try to be a 'good neighbour' and get to know these new tenants.
If you have dogs, you should train them only to accept food from you or to only eat food in their bowls. A method of removing them as obstacles is by poisoning food and tossing it over the fence. If your dogs have been poisoned, this means a robbery is imminent and you must take all proper precautions, such as hiring security for a few weeks if need be.
Out and about.
You need to be careful with your cellphone when on the street. One incident involved a woman messaging a friend on her phone as she stood by the curb. A car slammed to a stop right by her, a man ran out of the passenger side, grabbed her phone, got back in, and the driver sped off. The moral of the story? Don't let your phone distract you and don't make it an easy target. Stealing cellphones is immensely profitable, with a sale of at least a few thousand rand possible with the theft of the newer smartphones.
Sandton Central does tend to be relatively safe from a crime point-of-view, and we have done our best to keep crime levels down. But nowhere is completely safe. One of our initiatives is the Men in Red, our public safety ambassadors. They focus solely on crime prevention and helping out visitors to our district. They can be called on to escort you within the Sandton Central area.
Part of their responsibilities includes monitoring the public space and providing surveillance for the authorities for all crime related issues. They also have a great deal of knowledge about the area and will assist you in finding your way around.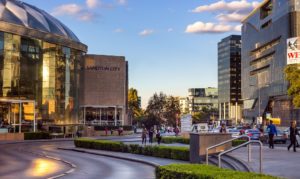 On e-hailing services.
One of the best developments in the smartphone era is the way apps have changed our lives. It seems there is an app for almost everything. And that includes apps for calling Uber and Taxify drivers to give you a lift.
This has made a huge difference in preventing accidents on the road. People feel comfortable using these convenient services, and that means they'll use them when they plan to drink on a night out. Avoiding drinking and driving has probably saved countless lives.
But there are some important safety considerations to bear in mind.
We acknowledge there is tension between traditional taxi drivers and those who form part of e-hailing services. Do nothing to aggravate the former. When you e-hail, stay away from the street as if waiting for something. Rather stay in the building or centre you're in (as you can set the meeting point) and only come out when the driver has arrived at the designated spot. You can easily keep track of his location using the app.
Also memorise his licence plate number along with the model of car. There have been incidents where people have gotten into the wrong vehicle and were later robbed. This is especially important if you have been drinking, as you will be somewhat impaired. Always make sure to check the licence plate of your driver.
Certain areas are considered "territory" of the traditional drivers, and it is here where conflict can occur. Outside the Gautrain is one such area. While we have clamped down on this sort of behaviour, when you are being picked up after using the Gautrain, walk down the street to the Alexander Forbes building – the app will indicate this to you in any case.
It is perfectly safe there, as a security guard will be keeping watch. We would like to use this opportunity to thank Alexander Forbes for volunteering this space for e-hailing users.
Happy New Year!
Lastly, we just want to wish all visitors, workers, and residents of the Sandton Central district a fantastic holiday over this festive season, and a happy new year.
For those going away, we'll see you again in our world-class district.