Businesses big and small, Sandton Central is the address of choice for them all
Sandton Central is renowned as a powerhouse of large corporate headquarters, but don't be fooled into thinking that it is only business giants that prize having offices here. In fact, Sandton Central is also the address of choice for an exciting array of small businesses, and even the smallest and most agile of them.
South Africa's financial capital is home to increasingly more spaces catering to the global co-working boom. These spaces provide plug-and-play, amenity-laden, community-rich environments often through affordable membership schemes.
From coffee shop creatives to out-of-office executives, start-ups to home-based independents, travelling professionals to mobile moguls and even project teams and new corporate divisions, the variety of businesses and business people embracing co-working is on the rise.
While these co-working spaces offer numerous nimble amenities, when they are located in Sandton Central they also place their clients at a tremendous advantage. These small businesses find themselves in the centre of opportunity at the heart of the most important business and financial node in South Africa and plausibly sub-Saharan Africa. Not only is Sandton Central South Africa's commercial capital, it is its cosmopolitan centre of trade, ideas and lifestyle.
Here are a few Sandton Central co-working spaces that stand out from the crowd:
OPEN Sandton
Situated at 138 West Street opposite the Sandton Gautrain Station, OPEN is all about working, meeting and innovating and is brought to you by the same people behind OPEN Workshop 17 at the V&A Waterfront in Cape Town. It is designed for physical and virtual network and creates a community that is entrepreneurial, creative and inspiring. It offers everything from public places and the street-side OPEN Sandton Café, to co-working space, dedicated offices, meeting rooms and even at 12-seater tiered auditorium.
For more information click HERE
FutureSpace
Located at 61 Katherine Drive, opposite the landmark new Discovery building, FutureSpace takes this working trend beyond expectations, starting with co-working, virtual offices, private offices and meeting rooms, but taking it further with an executive and bespoke offering. FutureSpace is designed to encourage pro-working — with the 'pro' being for professional and productive – or the older brother of co-working, which is co-working combined with service, style and hospitality.
For more information click HERE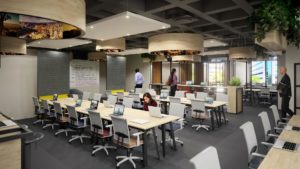 The Business Exchange (tbe)
Located at 90 Rivonia Road, opposite the Sandton City, this inspiring and stylish space offers co-working, virtual offices and private offices. Its perks include a sophisticated setting and upmarket bar and lounge.
Read more HERE
Regus
To cater for the high demand, this well-known international brand offers three addresses that allow its clients the flexibility of co-working for an hour, day, week, month or years. They are:
Spaces: located in Sandton City's Atrium on 5th, it occupies the 9th floor of the fully renovated green-rated building. From private offices to co-working spaces and meeting rooms, you will find everything to suit the needs of your business. The exclusive location, with a tailored service concept, makes Spaces Atrium on 5th an energetic working environment.
West Tower, 2nd Floor, Nelson Mandela Square: This five-star business centre benefits from an iconic, and easily accessible, address.
2 Sandton Drive: work in a modern presence in world-class surroundings with all the professional and practical amenities required to work in style.
For more information click HERE
Sandton Central Management District (SCMD) is the commercial centre of South Africa and is home to three business improvement districts. It provides distinct advantages for property investors by creating and sustaining an excellent property investment location – read full article HERE