The History of Sandton Central
From settlement to city, the history and legacy of Sandton Central.
What is now known as Africa's wealthiest square mile, Sandton forms part of the rich history of Joburg's legacy. To describe Sandton in the early days, it was rather uneventful. It started as green fields where farming and smallholding communities lived and traded with each other. Now, it is considered a world-class city with the greenest building developments, the financial centre of Johannesburg, and South Africa's commercial capital.
Sandton was established in 1969
Sandton CBD forms part of the City of Johannesburg Metropolitan Municipality. The name of the town came from the combination of two of its suburbs, Sandown and Bryanston. In 1969, Sandton was promulgated as a municipality in its own right. However, it lost its status as an independent town after the re-organisation of South African local governments when Apartheid ended.
Before the city central came to be: 1840's -1930's
The first settlers moved to Sandton after Britain annexed Natal in 1843. Sandfontein was the farm area around Sandton. The Esterhuysens were a well-known Voortrekker family who lived on the farm Sandfontein, close to where Sandown High School is today, on the corner of Grayston and Rivonia drives.
A wave of urbanisation in the 1930s was driven by widespread poverty in South Africa as the world suffered one of its worst economic depressions. Many people abandoned rural lifestyles for opportunities in the industrial Witwatersrand.
The 'Southern Suburbs' of Sandton were laid out quite early in the century and by the thirties, they were well established as 'gentleman estate' areas. At this stage, they formed the 'Northern' suburbs of Johannesburg and in some cases extended beyond the boundaries of the city. The rural 'horsey' lifestyle of Sandton led to the area being dubbed the 'Mink and Manure Belt' and it was considered a desirable address.
The rise to independence: 1940's – 1960's
During the 1940s and 50s Sandton became increasingly residential and wanted independence from the government's Peri-Urban areas Health Board, which had control over services such as water. The local population regarded themselves as an entity separate from Johannesburg.
In 1956 the Peri-Urban board had bought some large tract of land for municipal purposes – one of these being the 11-ha site in Sandown where the Civic Centre now stands. Of this, 3.4 ha was sold to the Transvaal Provincial Administration for the building of Sandown Primary School. In 1965 the land directly south of the Civic Centre area was allocated to extensive retail and flat rights. The land then belonged to Mr Bob Edmunds, the chairman of Standard Bank, and was sold to property developers Rapp and Maister – now Liberty Properties – in 1968.
The first moves by Sandton to achieve independence from Johannesburg came soon after when it was eventually promulgated as a municipality in 1969.
The first few years of Sandton's existence were dominated by the question of whether Sandton should remain a quiet semi-rural town or grow into a balanced entity with significant business and higher density residential components. Bristow reports that it split the town council apart.
A new dawn filled with cranes against the skyline: 1970's - present
The first step in transforming Sandton from a farming community to a bustling business district came with Sandton City. This was developed and constructed by Rapp and Maister during the early 1970's, opening for trade in 1974.
The rush of commercial space began in the mid to late 1980's when land in Sandton was cheaper than that in the Johannesburg CBD. This spot offered rolling lawns, beautiful fountains, and low-density, affordable-to-own office space, that could not be found in the CBD.
The council agreed to approximately 200,000 square meters of office space; today the figure for central Sandton alone stands at more than 1.5-million square meters and is still growing.
Present day, Sandton is the second largest office node in South Africa, hot on the heels of the Johannesburg CBD. It has exceptionally high proportion of prime quality office space. Sandton Central is also said to be the epicentre of green buildings in Africa with possibly the highest number of certified green buildings of any business district.
Sandton has become home to most of the major financial, consulting and banking firms in South Africa, with a substantial 7 to 10 per cent of listed companies having a postal address in this area. In September 2000, the Johannesburg Securities Exchange moved to its present location in Sandton too.
Sandton Founded: A Timeline of Events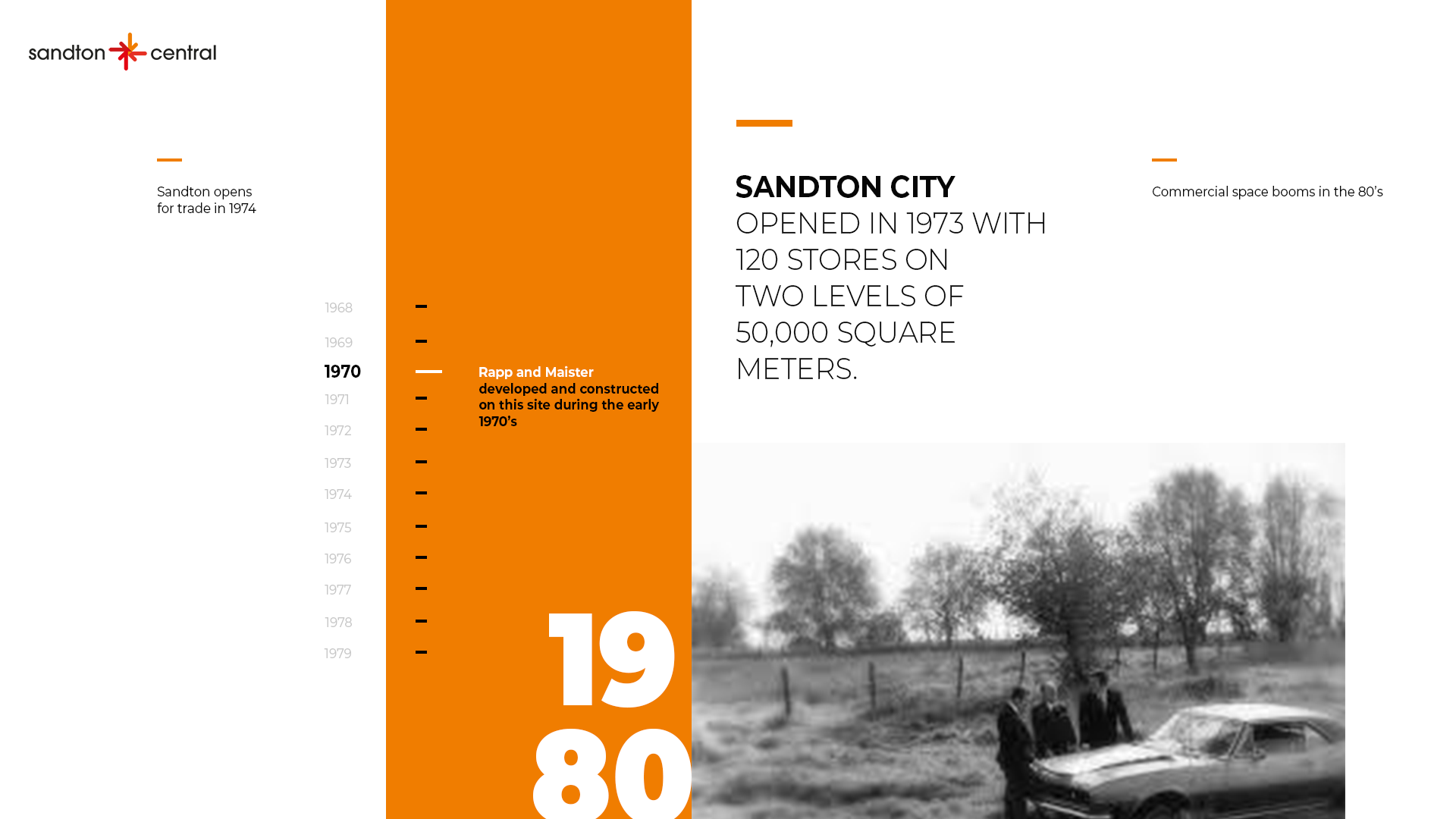 A short history of Sandton City
Sandton City is one of South Africa's most exclusive retail and leisure experiences. The mall opened in 1973 with 120 stores on two levels of 50,000 square metres and added two additional levels of parking for 2,500 cars and outside parking with 25,000 square metres of office space.
It was built and owned by property development company Rapp and Maister, in partnership with brothers Hilliard and Eli Leibowitz, and was later taken over by Liberty Life (now part of Liberty Holdings Limited).
Sandton City is now owned by Liberty Group Limited, Liberty Two Degrees Limited and Pareto Limited and is managed by JHI Retail.
Sandton: Population growth and potential
The Sandton as we know today has come a long way from a rural area to a bustling city, and even though it's not a large-scale metropolitan yet, it's still slowly growing. Sandton's current population size is approximately 222,415. There was a slight pause and decrease of population growth during 2020 and 2021, due to the economic impact of COVID-19.
Hamlet or Band has a tiny population (fewer than 100), with only a few buildings.
Village or Tribe is a human settlement or community that is larger than a hamlet but smaller than a town.
Township is a medium town which has a population between 1,000 and 10,000.
A town has a population between 10,000 and 100,000.
A city is considered an urban area with less than one million residents.
At this density, there is viable access to more advanced services (e.g., doctors, mechanics, colleges, etc.) due to economies of scale being abundant. Average medium income is on par with national average.
So, it may be difficult to imagine that less than 50 years ago Sandton didn't exist in name and where it stands today was largely a farming community that could be considered a village.
Yet, even with its rapid development and new office and apartment towers on the rise, there are still charming traces of Sandton's relatively brief modern history to be found, like 'the little church under the pines' in Stella Street, Sandown. It was the first church in the district, inspired by Anna Notten who arrived with her parents and three sisters from Holland in 1887. Her father, Sytze Wierda, was a distinguished architect who designed Amsterdam's central railway station and was recruited to organise the public works department.
The interdenominational church's cornerstone was laid on 11 July 1925. Today, it stands among Sandton Central's bustling high-rise buildings.
Discover more of Sandton with this interactive map


Warning
: log() expects parameter 1 to be float, array given in
/home/sandtoncentralco/public_html/our-history.php
on line
198
Warning
: log() expects parameter 1 to be float, array given in
/home/sandtoncentralco/public_html/our-history.php
on line
198
Sandton Central Fact Sheet (1)
Warning
: log() expects parameter 1 to be float, array given in
/home/sandtoncentralco/public_html/our-history.php
on line
198
Sandton Central Location (1)